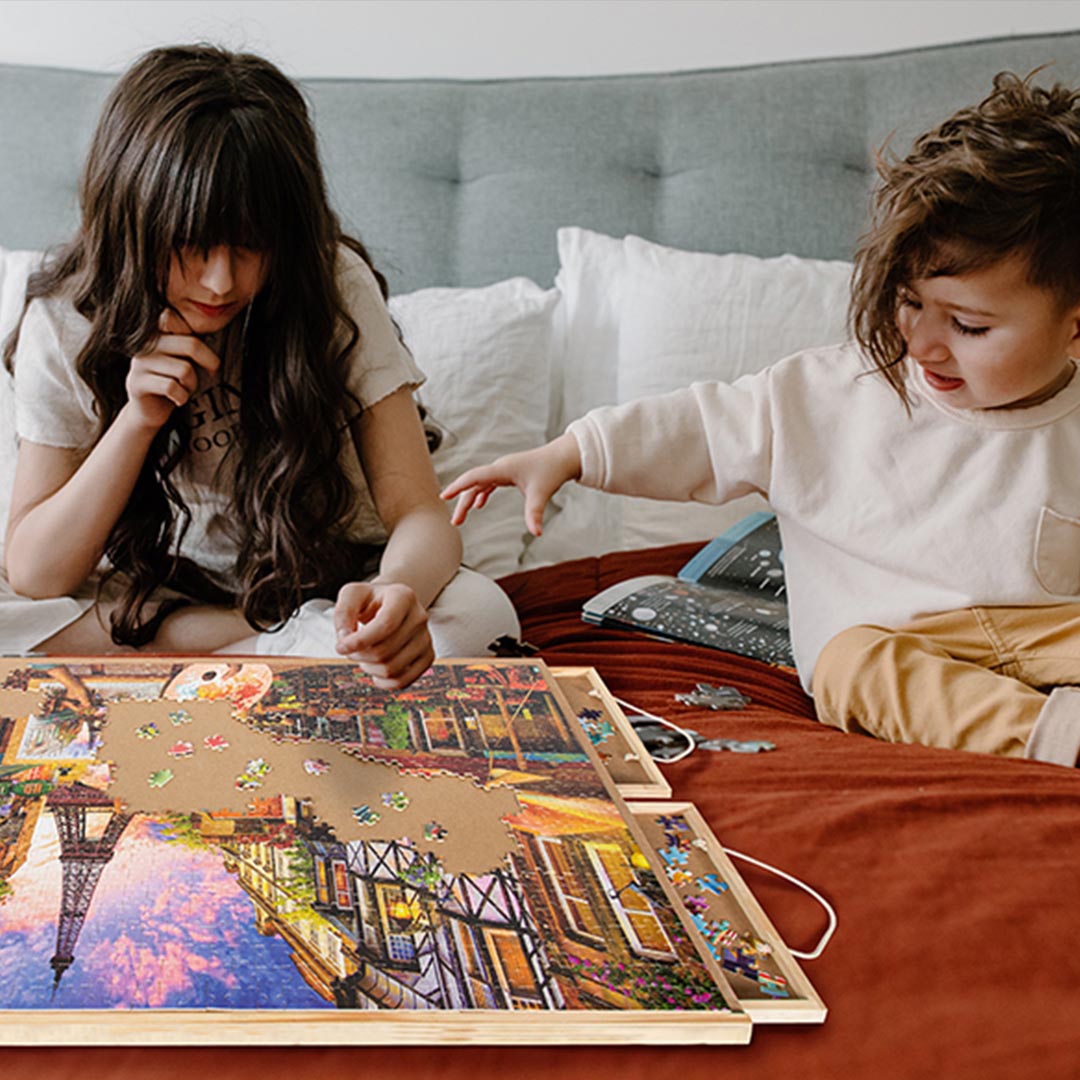 What Can I Use Instead Of A Puzzle Mat?
Everyone loves playing jigsaw puzzles on a jigsaw puzzle roll up mat or jigsaw puzzle table. But did you know that there are many other workspaces where you can play your favorite jigsaw puzzles the year-round.

Playing jigsaw puzzles is certainly a great idea because it one of those social activities that are screen-free, inexpensive, indoor-oriented, and brings people together for some fun and laughter. Jigsaw puzzles are one of the best alternatives for people who spend hours playing video games or watching television series. However, if you are someone who is new to jigsaw puzzles and want some good advice that would help you save your hard-earned money, then this article will help you find all that you need to know to become a jigsaw puzzle expert.
The Best Alternative To Play Jigsaw Puzzles Apart From A Puzzle Mat
There are many jigsaw puzzles mat alternatives such as jigsaw puzzle table, cardboard, or wooden board.

One of the best alternatives where you can play jigsaw puzzles you love without unnecessarily spending on a jigsaw puzzle mat is workspaces such as the dining room table. Ensuring that you choose a place to enjoy this social activity of playing jigsaw puzzles is permanent would be necessary.

Don't like the clutter or don't have a jigsaw puzzle roll up mat? Then, Tupperware and plastic bags will make your go-to tools for storing the unfinished or to-be-used jigsaw puzzle pieces. These will help keep the things pretty organized for you all along and will also ensure you don't lose an integral jigsaw puzzle piece along the way.

Next, you will also have to ensure that the workplace where you will be playing the jigsaw puzzle pieces is large enough and can accommodate the whole jigsaw puzzle. It should also be large enough to accommodate some extra pieces. Usually, a 1000-piece jigsaw puzzle has the dimensions of 20"×27". This simply means that you will need a place that is 3-5 feet minimum in order to enjoy playing fit stuff that is a bit more than just the full puzzle piece.

To keep all the puzzle pieces sorted, using sorting traces to keep the puzzle pieces will also help you save time and space as you complete the whole jigsaw puzzle.

A jigsaw puzzle table or puzzle tables or puzzle table with drawers makes it supremely convenient for most jigsaw puzzle enthusiasts to coordinate and store jigsaw puzzle pieces. Thus, helping the jigsaw solver avoid losing their precious jigsaw puzzles. It is like a sturdy that comes with a luxurious finish.

The jigsaw puzzle table certainly makes a great addition or accessory for any home, a small workspace, and also comes in foldable options. You could easily store a foldable jigsaw puzzle table when you are not in the mood to solve your favorite jigsaw puzzle.

Yoga Mat

You could also use your yoga mat as a puzzle mat. You could simply play your favorite jigsaw puzzle at the center of the yoga mat. Once you are done playing and desire to store the jigsaw puzzle mat, you could simply roll up the puzzle mat carefully and tightly. You can then secure your yoga mat with the unfinished jigsaw puzzle pieces using a strap. You could simply unroll your yoga mat once you are ready to continue playing with the jigsaw puzzle mat. However, be careful to unroll your puzzle jigsaw mat.

Yard Of Felt

You could simply go into a fabric store and purchase a yard of felt. You could use this felt fabric to play with jigsaw puzzles at ease.

Jigsaw Puzzles On Laptop

Jigsaw puzzle enthusiasts can even engage in playing some really engaging jigsaw games on their laptops. From classic jigsaw puzzles to daily jigsaw puzzle challenges, present-day online jigsaw puzzle games have got it all to offer jigsaw puzzle players an enhanced puzzle-solving experience.

Best Surface To Solve Jigsaw Puzzles

Be it a jigsaw puzzle table, a jigsaw puzzle table with drawers, puzzle tables, cardboard, or a wooden board. The main aspect all jigsaw puzzle players should keep in mind is to play the jigsaw puzzles on a flat surface. You could prefer using a flat background surface that has a single color, and no pictures, drawings, or flowers that could distract you while solving the jigsaw puzzle.

Jigsaw Puzzle Mat Vs. Jigsaw Puzzle Board

A jigsaw puzzle roll up mat is something is a much better option than a jigsaw puzzle board because it offers a flexible surface to roll up and unroll unfinished jigsaw puzzle pieces. This might not be possible with all jigsaw boards unless they are foldable and premium-quality jigsaw puzzle boards.

If you have been looking for the best quality jigsaw puzzle boards, jigsaw puzzle sorters, or jigsaw puzzle mats in jigsaw puzzle accessories, then don't forget to check out www.jigsawdepot.com.

FAQs:
Will roll-up puzzle boards work?

Roll-up puzzle boards do work. They are made of felt which means that your jigsaw puzzle pieces will always be in place.

What does a jigsaw puzzle do to your brain?

Jigsaw puzzles are incredibly great exercise for the brain. Many studies have shown that playing jigsaw puzzles can have a positive impact on one's visual-spatial reasoning and cognition improvement. The overall act of putting all the jigsaw puzzle pieces together not only improves short-term memory but also short-term problem-solving skills and concentration.

Do you really need a special frame for your jigsaw puzzles?

Jigsaw puzzles are usually thicker than a normal print or photo. So, this certainly explains why you will need a thick frame for jigsaw puzzles. However, we would recommend you to go for a shadow box frame if you have got a jigsaw puzzle that has considerable depth.

What is the fastest way to solve a jigsaw puzzle?

The fastest way to solve any jigsaw puzzle in the world is by putting up the first put-up puzzle edges. This trick makes it extremely convenient for a person to put together the jigsaw puzzle through better identification.