Where Can I Buy A Fold Up Jigsaw Puzzle Board?
You can buy the best fold-up jigsaw puzzle board from Jigsaw Depot's official website at a bargain price. The official website of Jigsaw Depot provides the best 1000-piece jigsaw puzzles, 500-piece jigsaw puzzles, board for jigsaw puzzle, puzzle mats, jigsaw puzzle tables, puzzle sorters, and informative blogs about jigsaw puzzles. You will find massive deals and offers on most jigsaw products available on this website.
Jigsaw puzzle enthusiasts can head to the website to buy the most reviewed jigsaw puzzles and accessories from the top brands. Fast shipping, 24/7 customer support, and a great return policy further add usefulness to this bestselling fold-up jigsaw puzzle board website.
Foldable Jigsaw Puzzle Board – What Is It?
A jigsaw puzzle board allows jigsaw puzzle players to solve the puzzle as fast as possible just like an expert. The hard and flat surface offered by a cardboard or wooden jigsaw puzzle board will not be disturbed easily when the players are engaged in completing a jigsaw puzzle. The right size of a jigsaw puzzle board that is large enough to hold the size of a jigsaw puzzle is needed for an undisturbed experience. Jigsaw puzzle boards that can be folded are quite handy if you wish to move or store the jigsaw puzzle with ease.
Foldable Jigsaw Puzzle Board – Why Do You Need One?
A foldable jigsaw puzzle board provides a stable surface for completing the jigsaw puzzle. Jigsaw Depot jigsaw puzzle board helps the player transport unfinished puzzles as well as save the progress. Thus, helping players store the puzzles safely until next time. The foldable puzzle workspace plateau offered by the best jigsaw puzzle board brands provides large enough space for storing puzzles of different shapes as well as sizes. The best jigsaw wooden puzzle boards can be easily folded into a compact size and are super-foldable for vacations and game nights. They are also lightweight, thick, and durable.
Different Kinds Of Jigsaw Puzzle Boards are Available On The Website
Jigsaw Depot offers a large collection of jigsaw puzzle boards available for sale on its website. Let's learn a bit about some of their most hot-selling types of jigsaw puzzle boards that make a must-have.
01. Portable Jigsaw Puzzle Board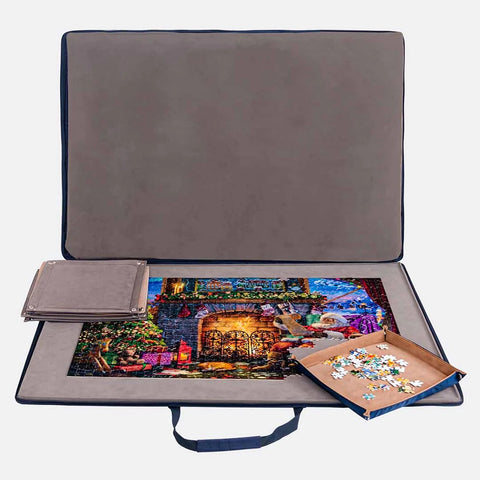 The best portable jigsaw puzzle boards come with a storage bag, sorting trays, a thickened pad, and a removable puzzle board. This is one foldable puzzle board that can be transported anywhere. Safely storing unfinished puzzles is made easy with the best portable and foldable jigsaw puzzle board.
02. Adjustable Wooden Puzzle Board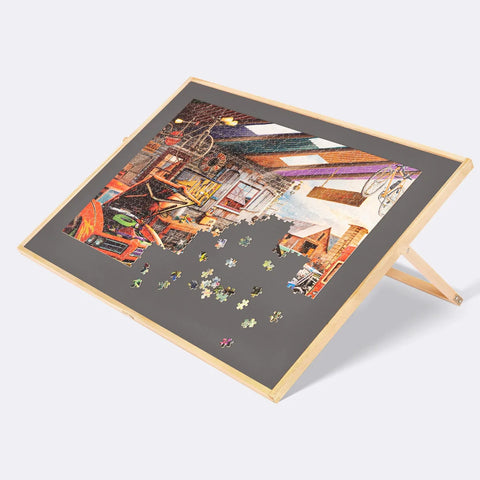 The best adjustable jigsaw wooden puzzle board can store up to 1500-piece jigsaw puzzles. It offers easy storage, an easel puzzle plateau, and a non-slip surface. It is made with premium-quality flannelette and high-quality wood. It is lightweight and comes with multiple angle adjustments. You can easily place this board under your couch or in your wardrobe.
03. Wooden Easel Adjustable Puzzle Board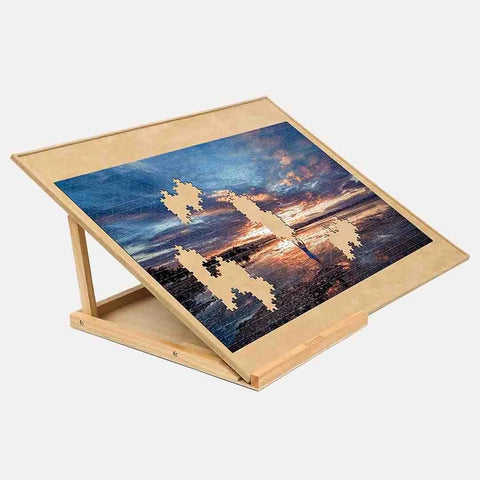 The best wooden easel adjustable puzzle board by Jigsaw Depot is made with medium-density fibreboard and premium flannelette. The high-quality flannelette reduces friction as well as prevents slipping. It makes the ideal choice for 1000-piece jigsaw puzzles without a doubt. It comes with two adjustable angles that support other puzzle boards of different sizes.
04. Jigsaw Puzzle Board With Dust-Proof Cover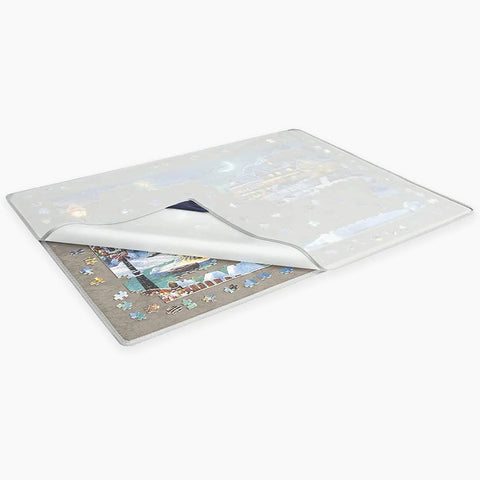 Another jigsaw puzzle board available on the website comes with a dust-proof jigsaw puzzle board cover. The flip cover is non-detachable and aims to guard the jigsaw puzzles from naughty pets and dust. It is made using polyester fabric and high-quality flannelette. It is lightweight, portable, and contains thickened cardboard.
05. Folding Puzzle Board With Sorting Trays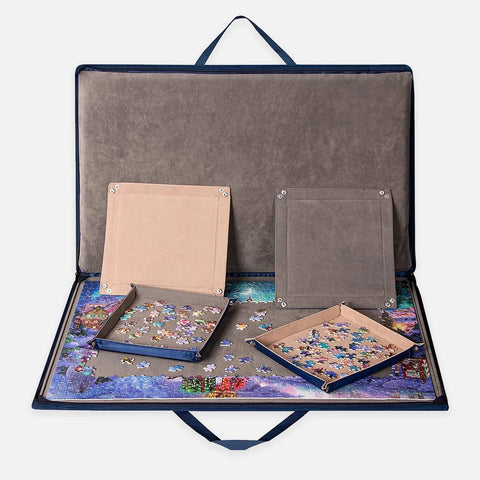 The best folding puzzle board with sorting trays is made using high-quality fabric, lightweight cloth, as well as traditional wooden organizers for storage. It offers a special mezzanine design sorting trays for efficient sorting and organization experience. The puzzle board can even be detached and used alone.
06. Jigsaw Puzzle Board With Portable Covers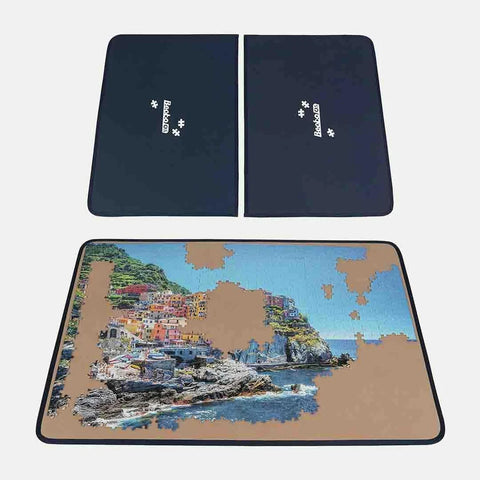 One of the best puzzle boards for securing unfinished puzzles from naughty pets, moisture, and dust is a jigsaw puzzle board with portable covers. This puzzle board even offers enough friction that can prevent puzzle pieces from falling off. It is anti-binding, portable, and made with premium quality material.
07. Portable Puzzle Board With Tilting Bracket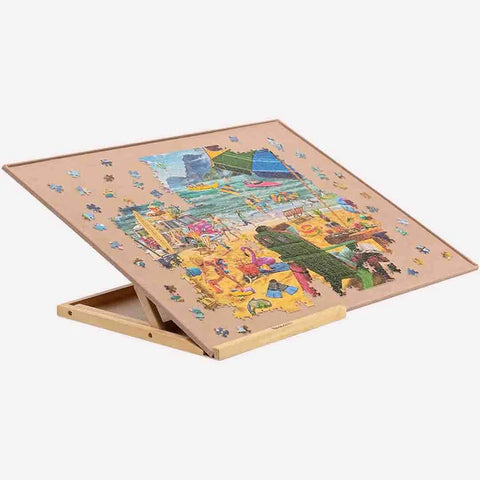 The best portable tilting bracket puzzle board is suitable for jigsaw puzzles of 1000-pieces. You can adjust this puzzle board into two adjustable angles by switching between the low stand and high stand positions. It is made using premium quality fine pinewood. You can transport this puzzle board anywhere with ease.
08. Jigsaw Puzzle Board Portable Puzzle Mat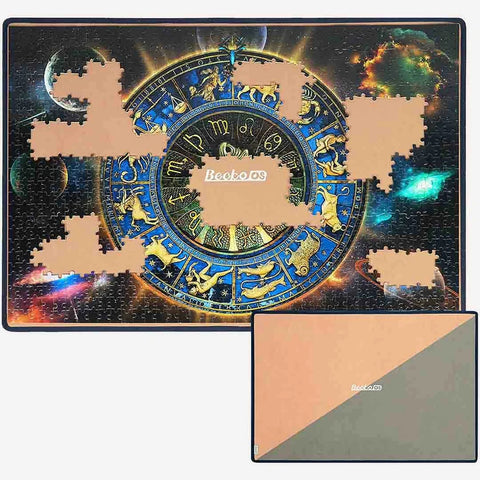 The jigsaw puzzle boards portable puzzle mat has both sides covered with extremely soft suede. It makes the ultimate puzzle saver any day. The reversible color design offered by this puzzle board puzzle mat also comes with an anti-slip surface for minimum friction when the puzzle board tilts.
How To Choose The Jigsaw Puzzle Board For Yourself?
If you select a puzzle board that does not fit the exact puzzle sizes or puzzle pieces you mostly play, there are high chances of dissatisfaction occurring even from the best puzzle board brands and types. Choosing the appropriate puzzle board size will make the whole process of engaging in jigsaw puzzles very convenient and hassle-free. Try to purchase a wooden jigsaw puzzle board that will be suitable for your day-to-day lifestyle requirements. Always purchase after thorough research as for most people buying a jigsaw puzzle board will be a once-in-a-lifetime shopping. The best jigsaw puzzle boards will be simple to store, compact in size, and will offer ample storage space.
Conclusion:
A foldable jigsaw puzzle board is a great way to store and save jigsaw puzzles with utmost care. Transporting unfinished puzzles and storing large-sized jigsaw puzzles of different shapes and sizes will no longer be a hassle, all thanks to the Jigsaw Depot's best jigsaw puzzle boards. Their foldable, portable, durable, and storage-rich puzzle boards make a worthy investment and are great to use.