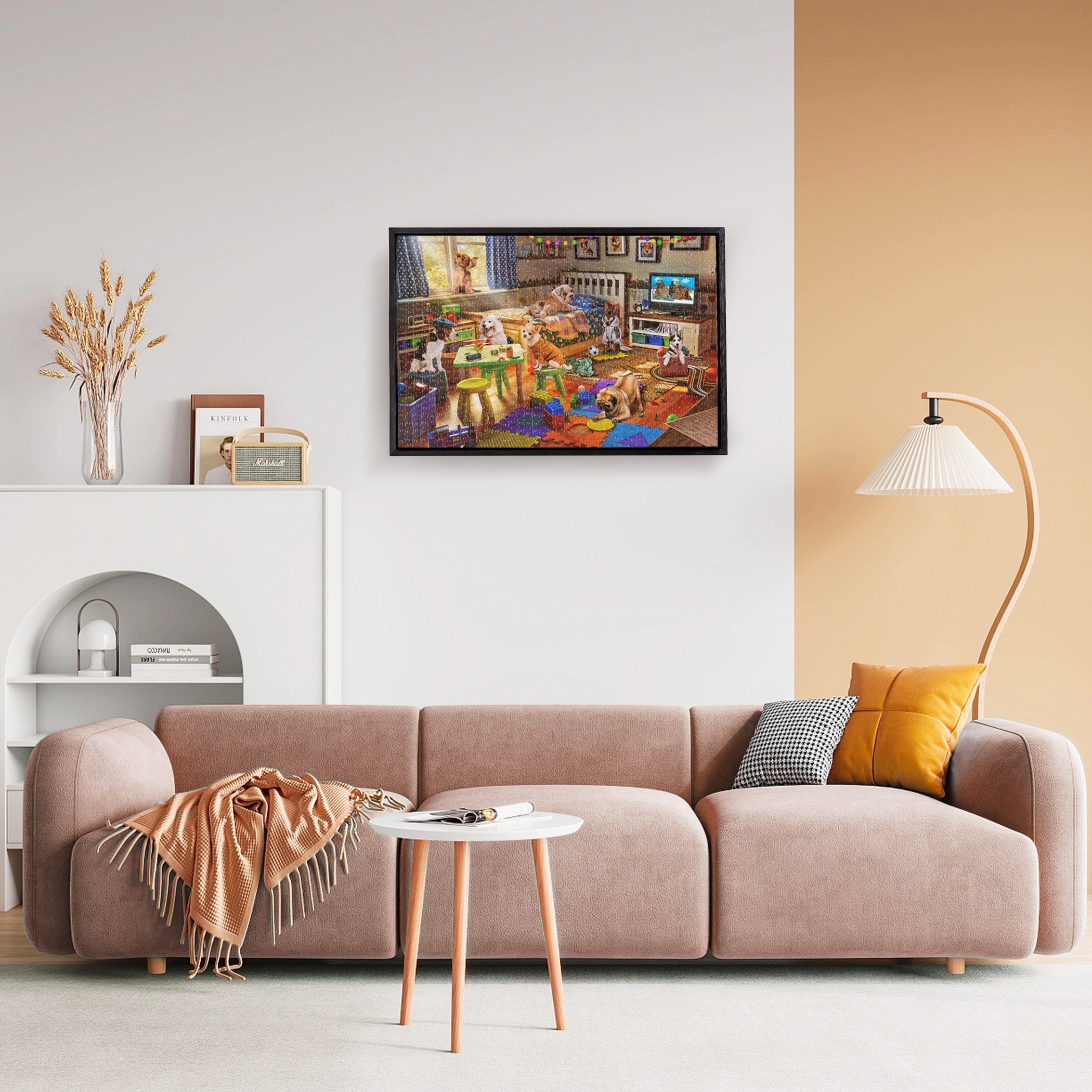 How To Glue A Jigsaw Puzzle?
When completed, many puzzles are true pieces of art. After you've completed your puzzle, you might want to save it so that you can show it off to your mates and reflect on your accomplishment later. You can accomplish this by applying a clear super glue on the front side of the puzzle to connect each of the pieces, while you can further stabilize your puzzle by gluing the back as well. Once you've finished gluing, you could even fasten your puzzle to something like a firm surface to make sure that all of the bits remain securely in place.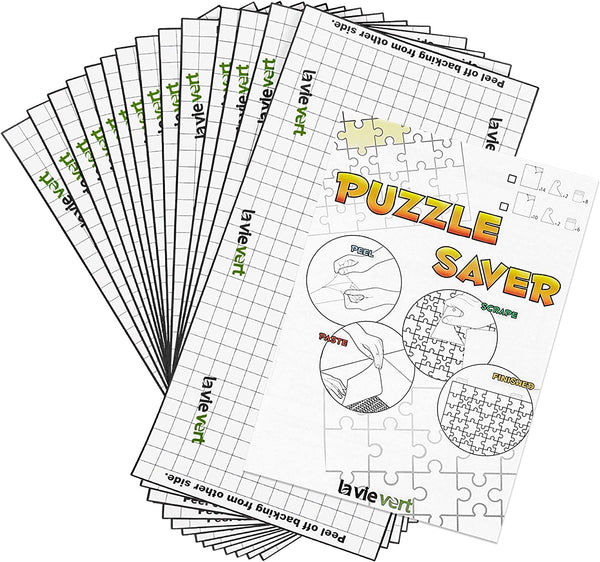 Gluing Front Of The Jigsaw Puzzle
Acquire All Materials:
To ensure that the adhesive you use does not cloud the exterior of your puzzle, shavings, or cause harm, use specially designed puzzle glue. This is available with most craft as well as hobby stores. You will require the following materials for completing this project:
Sponge or Paintbrush
Puzzle Glue Sheet
Jigsaw Puzzle Glue
Wax Paper Or Parchment Paper
Any Clear Adhesive
Peel And Stick Puzzle Saver
Lay Out A Parchment Paper Over Your Work Area: While gluing your puzzle, you should operate on a level or a clear space. Adhesive can sometimes permeate among puzzle pieces, causing them to cling to your worktop. To avoid this, place a sheet of waxed paper between your surface and the puzzle while you're working on it. The waxed paper must extend multiple inches further than the outsides of your puzzle. If you don't really have any wax paper on hand, then you can use parchment paper to keep the pieces of the puzzle from adhering to your worktop.
Position Jigsaw Puzzle On Parchment Paper: Move your puzzle well over the upper side of your waxed paper if possible. When this is not possible, a fine, rigid portion of the poster board will be necessary to move beneath your puzzle to assist you to transport it to the waxed paper may be necessary. During this point, your jigsaw puzzle must be having to face picture side up on the top of your wax paper (or parchment paper), with the paper extending a few inches further than the puzzle's edges.
Add Glue To Center Of Jigsaw Puzzle: To make sure even material of adhesive is applied to your puzzle, begin in the center and gradually work your way towards the edges. Begin with a tiny portion of glue initially. If necessary, you could always add extra later. Working from the center of the jigsaw puzzle would also help you avoid overusing much glue, which can result in uneven glue. You can also use glue sheets for puzzles.
Evenly Spread Glue Over The Jigsaw Puzzle: Add a very little adhesive at a time as well as spread it with your painting brush or sponge first from the center to the outer edges of your jigsaw puzzle. Only a thin coating of glue should be needed to hold the jigsaw puzzle pieces next to each other. When you apply far too much adhesive to your jigsaw puzzle, the puzzle pieces may twist when the glue dries. Some puzzle adhesive brands include a plastic glue applicator which you can use to evenly spread your adhesive across the surface of your jigsaw puzzle.
Remove Any Unwanted Glue Globs From The Jigsaw Puzzle: When you get to the corners of your puzzle, you may notice that there is some surplus glue. Using your brush, plastic spreader, or sponge, push it away from the edges over onto waxed paper. You may well be capable of removing excess glue with a plastic spatula or spreader by lifting it up and cleaning it with a paper towel.
Allow Glue To Dry: Depending on the manufacturer of the puzzle adhesive you purchased, this could take a bit of time or an entire evening to dry. When standing in line for your jigsaw puzzle to dry out, it's better to be cautious. If you move your puzzle very soon, wet glue will wear away the puzzle pieces. You must check the instructions on the label for your puzzle glue sheets to see how long it takes to dry.
Gluing Back Of The Jigsaw Puzzle
Flip Your Jigsaw Puzzle: The bond formed by your adhesive onto the front of your jigsaw puzzle must enable you to quickly pick it up as well as turn it such that the side of the cardboard is pointing up. Larger puzzles could be more unsteady at times. Therefore, in this case, a portion of cardboard or sturdy card stock underneath the puzzle may be useful for security while flipping.
Glue Jigsaw Puzzle From Center Out: Apply a small amount of adhesive to the center of your jigsaw puzzle with your paint brush as well as a sponge to spread it outward. As with gluing the front of your jigsaw puzzle, seek for a fine, even coat of adhesive. To avoid wasting glue and also to focus on ensuring a thin, even glue coating over the puzzle pieces, add adhesive to your puzzle just a tiny amount at a time.
Push Excess Glue Off Puzzle Edges: You'll probably have some extra adhesive left over once you've reached the outsides of your jigsaw puzzle. Push the glue off of the corners of the puzzle onto the parchment paper with your soft brush or sponge.
Allow Glue To Dry Fully: Once the glue mostly on the rear of your jigsaw puzzle has dried completely, it ought to be securely attached together. In several cases, this should be steady enough that users won't need to frame or fasten your jigsaw puzzle if you showcase it on a smooth surface. However, trying to frame or mount your jigsaw puzzle can give it additional stability if you intend to hang it.
Gluing Jigsaw Puzzle With Puzzle Saver
One of the newest alternatives for gluing jigsaw puzzles is the jigsaw puzzle saver. Each adhesive sheet measures 15 × 7.5in and applies to a puzzle game of up to 1,500 pieces. Also known as puzzle sticker sheets or jigsaw puzzle glue sheets, make it simple to turn your completed puzzle into a permanent work of art. 
Mounting The Jigsaw Puzzle
Avoid Hanging Jigsaw Puzzle Without Mounting: The glue in your jigsaw puzzle could very well naturally deteriorate with time. This can result in pieces becoming loose and becoming lost. When trying to hang your jigsaw puzzle, mount or frame this to keep it in one piece.
Move Your Jigsaw Puzzle With Care: If you intend to move your puzzle, create a folder out of two components of corrugated cardboard, which can be found anywhere at the photo frame shop. Make a folder by taping the pieces next to each other. For consistency, place the glued puzzle on something like a piece of hardboard. A folder can be utilized to safely transport the puzzle. If indeed the jigsaw puzzle can bend, the adhesive may crack or end up causing it to deform. This will be prevented by rigid backing.
Use Simple Cardboard For Mounting Jigsaw Puzzle: You can create an efficient mount with just a piece of ordinary cardboard that's also larger than your jigsaw puzzle. Simply use a small amount of puzzle adhesive to the rear of your puzzle. Place the glued puzzle upon that cardboard. Permit the adhesive to dry completely. Then, using a utility knife, simply cut the surplus cardboard from your jigsaw puzzle. Cut all around the edge of the jigsaw puzzle with your knife blade to achieve this.
Choose A More Elaborate Mount For Framing Jigsaw Puzzle: Prior to actually mounting, select the frame! Once framing, a sturdy, fairly narrow foam board is frequently placed on the back of jigsaw puzzles. Foam board flexes greater than other types of mounting stuff. It can make it more straightforward to fit your jigsaw puzzle into a frame. You can mount your puzzle using a variety of foam boards. All of those are easily obtainable at hobby, craft, and photo framing stores. If you aren't sure if indeed the foam board you chose for mounting your jigsaw puzzle is thin/strong enough, a service person at your neighborhood hobby/craft shop or photo framing store should always be able to help.
Adjust the Size Of the Puzzle If Needed: If you discover a picture frame that is not precisely the same size as your jigsaw puzzle, then the puzzle needs to be trimmed down with a pointed utility knife when it is too large. Begin the cut by gently scoring the jigsaw puzzle's upper surface. Cut through the puzzle by drawing the knife within the same line numerous times. If indeed the jigsaw puzzle is too tiny for the frame, users can center it onto a backing board which fits the frame. If you desire the frame to actually fit, you may have to build it yourself or seek the assistance of a photo framing shop.
Frame Jigsaw Puzzle:
A frame can transform your completed, glued puzzle into a piece of artwork. To begin, determine the size of your jigsaw puzzle as well as buy a frame which will fit it. For safeguarding and showcasing your puzzle, put it within the frame and then seal the rear of the frame.