How To Make A Puzzle Mat?
Do you love to play jigsaw puzzles a lot? Do you think you are running low on space and need one to play all night long? Then, a jigsaw puzzle mat will make the best solution for you. From laying the puzzle mat on the floor to your dining room, a puzzle roll up mat might be what you are exactly looking for. Because once you are done working on your favorite puzzle pieces, you could easily roll up the puzzle mat. 
But you know what is the biggest issue you will face with the puzzle mats? It is that purchasing a new jigsaw puzzle mat is pretty expensive. So why not rediscover your true love for jigsaw puzzles by building a DIY puzzle mat? 
A DIY puzzle mat will make the best investment. Why? Because you would make a puzzle roll up mat based on your personal preferences. Be it too big puzzle pieces or too small ones, you know the jigsaw puzzles you play most often. Therefore, you could build a jigsaw puzzle mat that suits your jigsaw playing requirements in the best possible way. 
For most jigsaw puzzle players, we recommend building the largest yet best-suited DIY jigsaw mat. A large puzzle mat could fit a jigsaw puzzle of any size pretty easily.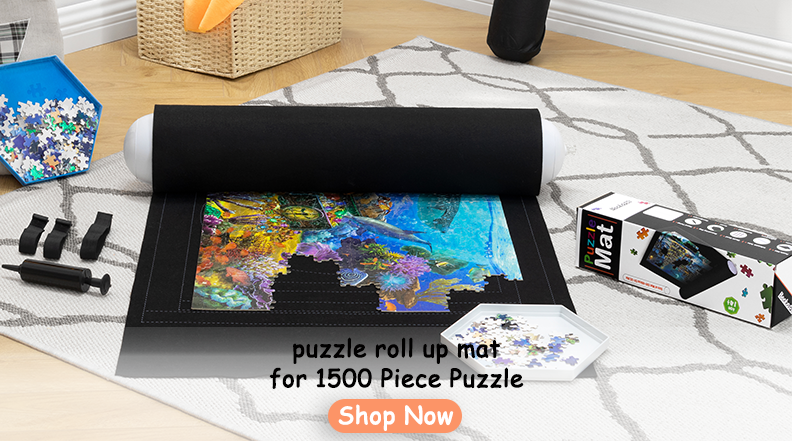 What all products will you need to make the best DIY puzzle mat?
A puzzle roll up mat is pretty easy to work around with. It is a perfectly handy product for people who live in small spaces. If you are a jigsaw puzzle enthusiast who often travels along with a jigsaw puzzle, then you surely need to make a DIY puzzle mat right away!
Here's what all you will require to make a DIY jigsaw puzzle mat:
1.Craft Felt Fabric
2.Fabric and Ribbons
3.Cardboard Tube
4.Scissors
5.Pins
6.Hook and Loop Straps
7.Fabric Glue
A Step By Step Guide On How To Make A DIY Puzzle Mat:
Follow these simple steps to create the best DIY puzzle mat ever:
Step 1: Line up all fabrics that you have collected. Ensure the right side of all the fabrics is placed inwards. Also, ensure that the wrong side of the fabric is positioned outwards
Step 2:Cut the available craft felt fabric as well as the other fabric to a measure of the same size
Step 3: Once you are done with the fabric trimming, remember to leave an opening. Also, remember to mark all the sides with the help of a fabric tape
Step 4: Turn the fabric insides out. Now, seal the leftover fabric opening with the available fabric glue.
Step 5: Now, cut the available cardboard tube patiently. Keep in mind that the cut you make in the cardboard tube should match the finished mat's length accurately
Step 6: Now, add some matching ribbons. Add the ribbons on the sides of the mat so that you can use them every time you are done rolling up the mat
Step 7: Every time you roll up the puzzle mat, do so with utmost care. Also, use the attached ribbons to secure the jigsaw puzzle mat. 
What all products will you need to make a framed puzzle mat?
Why stick to one style of a puzzle mat when you could have two? Maybe that puzzle roll up mat wasn't enough for you. Or maybe you would rather go for a framed puzzle mat instead of the puzzle roll up mat. Whatever your reason for desiring a framed puzzle mat will be, we are here to tell you simple steps to make the best DIY framed puzzle mat.
Here's everything you need to collect before we get started:
1.Handles
2.Glue
3.A Wooden Framed Dry Erase Board
4.Foam Sheet
5.Washi Tape
6.Acrylic Paint
7.Knife for Cutting
So, finally, let's get started to make the perfect framed jigsaw puzzle mat!
A Step By Step Guide on How to Make A Framed Puzzle Mat:
Follow this short and sweet 5-step guide to make the best framed DIY puzzle mat ever.
Step 1: Hold the dry erase board and paint it with two coats of any acrylic color, preferably white
Step 2: Attach the handles by drilling small holes. Drill the holes specifically at the end of the wooden frame. Why the handles? Because they will make it extremely easy for you to transport the framed puzzle mat from one place to another
Step 3: Using the available foam board, make an extra working jigsaw puzzle mat. Then, cut the foam board as per the size you desire the most.
Step 4: Now skilfully cover the board edges with the available washi tape
Step 5: Now that your workstation is ready, hold firmly with the attached handle for easy movement, and finally store it
Conclusion:
Puzzles are certainly one of the best mind-exercising games that you can play in your free time. Knowing how to make a DIY puzzle mat makes one of the best skills for any jigsaw puzzle enthusiast. And the biggest advantage of using a puzzle mat is that you can take your favorite puzzles along. You can also play them anytime and anywhere if you are carrying a jigsaw puzzle mat. 
FAQs
What does a puzzle mat help with?
A puzzle mat allows a jigsaw puzzle player to not only work on the puzzle but also store it for coming back later to finish it. Puzzle mats are pretty expensive so you could always make a DIY puzzle mat yourself. You need to place your jigsaw puzzle in the center of the puzzle mat. A puzzle mat is the best bet when it comes to keeping your unfinished puzzle safe for longer durations of time. 
How to move a jigsaw puzzle without breaking it?
You could always use a DIY puzzle mat or any other jigsaw puzzle mat to move the jigsaw puzzle. If your jigsaw puzzle is currently assembled on a table or something similar to a table, then you are required to slide your jigsaw puzzle onto any hard surface such as a cardboard one, then place another cardboard or hard surface on top to flip the puzzle.