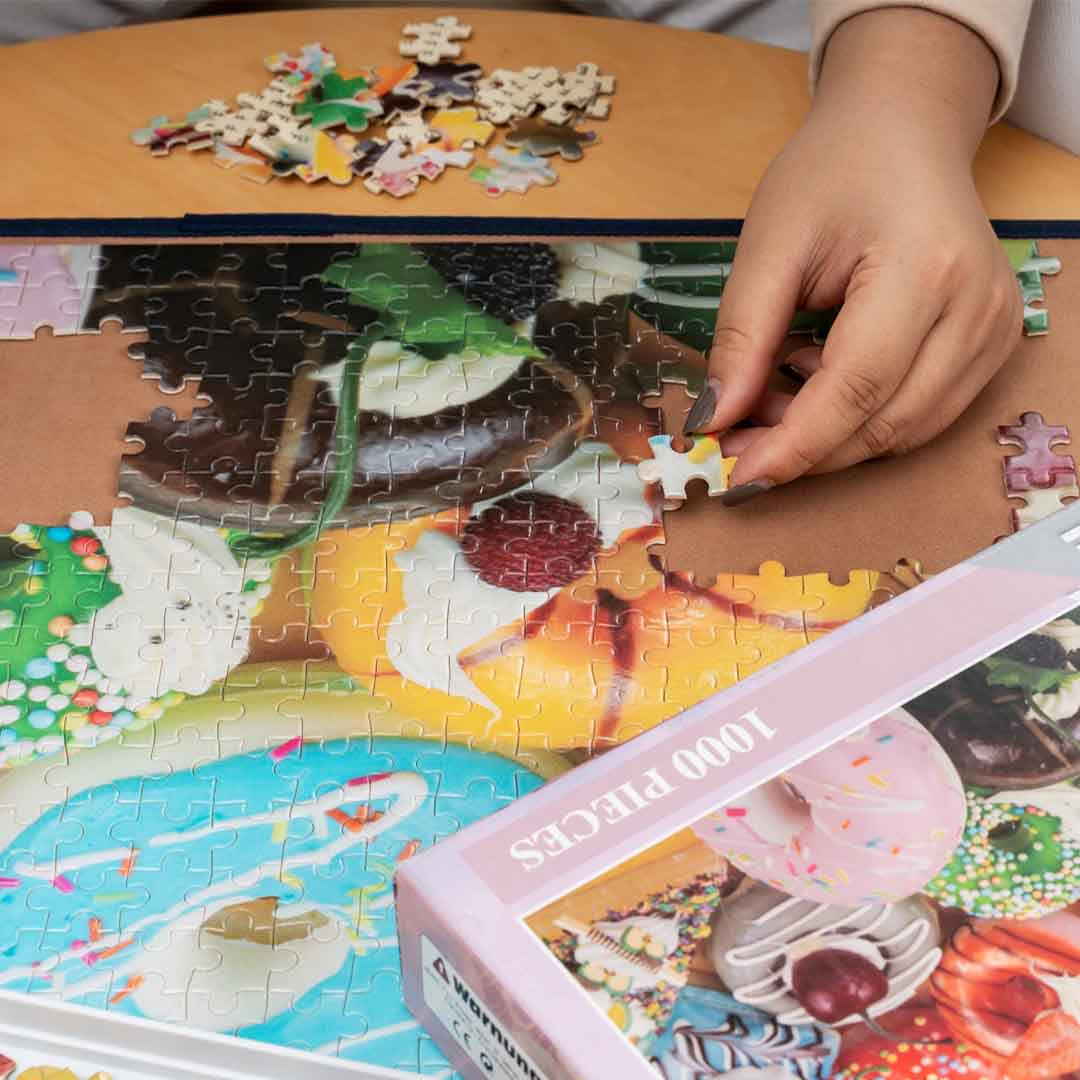 How Many Piece Puzzle for Adults?
Jigsaw puzzles have taken over the world in the past pandemic years. The possibility of playing them conveniently within the comfort of the home, made its popularity go over the roof, and deservedly so. Once it used to be a child's hobby, and adults rarely tried their hands on a good puzzle. But gone are such times. Nowadays, jigsaw puzzles for adults are something that is sold all over the world in numerous forms, shapes, materials, themes, sizes, and numbers. If it was world maps and mere pictures that were getting printed on a puzzle, now it has changed to authentic paintings, real photographs of magnificent scale.

The current obsession with puzzles has encouraged puzzle makers everywhere to come up with novel additions to their collections of puzzles. Puzzle makers are mostly making changes in the themes and the complexity of the puzzles produced. The themes vary from country land to real painting specimens and the number varies from hundreds to thousands.


Types of puzzles

Jigsaw puzzles are made in a huge number of variations throughout the world. Although the list is long, there are several ones that deserve a special mention.

2D and 3D Puzzles: 2D puzzles are what we commonly see and call us a usual jigsaw puzzle. These are flat and could be spread on a flat surface for assembling. 3D puzzles are a bit more complex for multiple reasons. As the name itself suggests, it is 3D in nature, and thus cannot be spread on a surface. So, it consumes a bit more space than a usual puzzle and is a bit more challenging to assemble. Still, 3D puzzles have their share of admirers for the sheer challenge that it poses.

Wooden, Cardboard, and Plastic Puzzles: Based on the material with which it is built, there are multiple puzzles available in the market. Traditional or wooden puzzles are the favorites of all time for their classy appearance, sturdiness, durability, and many more reasons. But cardboard puzzles and plastic puzzles have recently risen to popularity as they are quite reasonable and budget-friendly in terms of price. Although they cannot offer the quality of a wooden jigsaw puzzle, they still survive a good number of years if not exposed to many harsh conditions.

Entertainment and Educational Puzzles: There are many across the world who play puzzles for fun or as a hobby. Most of the puzzle enthusiasts are included in this category. But there are instances where a puzzle is used for educational purposes. Such puzzles which mostly contain maps and diagrams are known as educational puzzles.

Puzzles in terms of numbers: One of the major criteria with which puzzles are differentiated is the number of pieces that a puzzle has. There are 10-piece puzzles to 3000-piece puzzles available in the market. 1000 piece jigsaw puzzle is the one that is observed to have more popularity, because of its medium complexity and manageable size. There are many who are obsessed with complex puzzles and try their hands on puzzles with thousands of pieces.

Digital Puzzles: Digital puzzles are the newest addition to the lot. It is something that is accessible to anyone from any part of the world at any time. You get the chance to finish your puzzle in multiple sessions, and you need not worry about carrying it around wherever you go. You can even play it in the middle of a crowd without inviting any attention. You can try your hands on multiple puzzles at a time too.

Handmade Puzzles: Handmade puzzles are considered an elite class in the world of puzzles. It takes immense skill, patience, and effort to perfect a puzzle set by hand, and thus, such hand mad eons are considered collectible pieces.

Custom Puzzles: The growth of technology has enabled puzzle makers to provide customization services to their customers. You can provide whichever picture or pattern that you want to make a puzzle out of, and can get them made from a reputed puzzle maker.

Miscellaneous: Other than what was mentioned above, there is a vast array of puzzles that puzzle enthusiasts can choose from. Some of them are photo-mosaic puzzles, comic puzzles, black and white puzzles, coloring puzzles, gradient puzzles, artisan puzzles, mass-produced jigsaw puzzles, etc.

How to choose the appropriate puzzle for you?

Choosing the appropriate puzzle is extremely important if you are planning to fall in love with the game. If you decide to go for high-end, complex puzzles, the chances are high for you to get frustrated over time and eventually hate the game. So, there are certain things that you should keep in mind while purchasing a puzzle for the first time.

The important thing to keep in mind is to keep it minimal and simple. Always start in the simplest manner possible. Find puzzles that have a medium level of complexity and have 500-600 pieces to assemble. Also, try to find puzzles that have a distinct color contradiction so that you can easily separate various color groups.

Once you get used to the puzzles of particular complexity and number, upgrade yourself. Find puzzles that have 1000 and above puzzle pieces and don't have much color variation. This way, improve your skills and widen your horizon slowly and gradually. In this process, you will effectively understand the size, number, and kind of puzzles that you are genuinely interested in.


Having an interest in a game-like puzzle defines the person that you are. Though the sheer number of puzzle pieces and their complexity may intimidate you at times, once you start approaching it with a proper plan, it is sure to give you an adrenaline rush. You can choose the most suitable puzzle for you from the numerous ones that are available, and can even equip yourself with some puzzle accessories like a puzzle mat, puzzle table, puzzle tray, and puzzle board to ease your way into the world of puzzles. Once you have found a soft spot for puzzles, you are bound to fall in love with it.