How Long Does It Take To Solve A 1000 Piece Puzzle?
Jigsaw puzzles are one of the most interesting pastime activities with a unique recreational touch. Unwinding with a jigsaw puzzle is one of the greatest hobbies out there. All you have to do is focus on completing the puzzle pieces to soothe your inner child. 
But have you ever wondered about how does it take to solve 1000 piece jigsaw puzzles? To be honest, the timing is widely dependent on the following things:
Puzzle Solvers Skills And Interest: The time taken to solve a 1000 piece puzzle is very much dependent on the person or people solving the puzzle pieces. If they are avid jigsaw puzzle solvers and do solve the puzzles quite often then they will solve them faster. However, if the person solving the puzzle is only an occasional puzzle solver then he might take longer to solve the same puzzle. Are you solving a new puzzle? Do you find the puzzle you are solving intriguing? Yes, that's another point of concern. If a person finds the puzzle genre interesting then he might solve it faster than usual. Even if he is just an occasional puzzle solver.
Total Number of People Solving the Jigsaw Puzzles: A 1000 piece jigsaw puzzle is one of the toughest puzzles to solve out there. But how many people are solving the puzzle can also make a huge difference. Two people might take longer to solve a 1000 piece puzzle as compared to five people. However, the only exception in the above case is the puzzle-solving skills. If two skilled puzzle solvers compete with occasional puzzle solvers, then the first ones might win. Interest in the jigsaw puzzle also counts a lot in this case.
The Difficulty Level of the Puzzle: Another factor to consider when it comes to calculating the time taken to solve 1000 piece puzzles is the difficulty level. Beginners and advanced puzzle solvers usually choose to play puzzles according to the difficulty level. A difficult puzzle might take a longer time to solve than a simple puzzle. And that is common sense! 
The above-mentioned factors have a huge impact on the time taken to solve jigsaw puzzles for adults. Thus, the time taken to solve the same puzzle might be different for different puzzle solvers. It all comes down to interest, difficulty level, number of people, and puzzle-solving skills.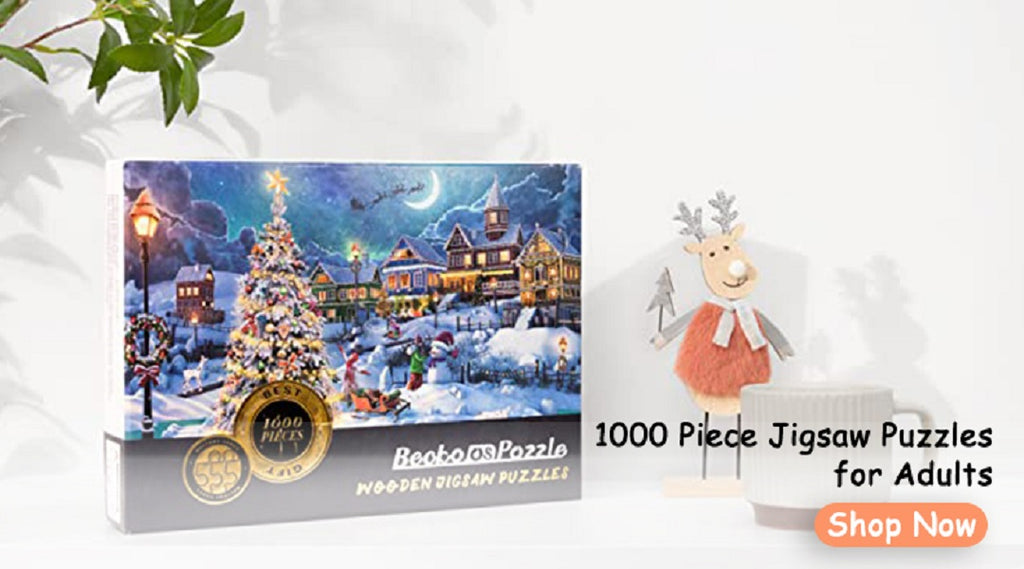 On average, most puzzle solvers take usually 3-4 hours to solve one 1000 piece puzzle, when done on a stretch. If you are one of those people who cannot give that long time to solve a puzzle at once, then you can solve it in installments. But keep in mind that when you solve it at once, it will take a shorter time than when you do it in intervals. Why? Because your mind might lose the link to the puzzle in the chaos of daily activities. So, it will take some time to create the link back. Also, there is always the risk of someone messing up with your puzzle while you are away or at work. How hard would it be to put back the puzzle pieces all over again? Very much, indeed.
There are many strategies that you can use to solve 1000 piece puzzles faster. But the strategies you use to solve jigsaw puzzle games are hugely dependent on the strategies you already know. Remember, the same strategy won't always work to solve different jigsaw puzzles. You will require a new and unique strategy to solve the new puzzle. So, keep your puzzle-solving skills up to date by reading articles about the latest tips and tricks to solve difficult puzzles faster. There are tons of such articles easily available online. 
Here are the five best tips that you can use to solve 1000 piece jigsaw puzzles for adults:
Five Best Tips to Solve 1000 Piece Jigsaw Puzzles for Adults
Find A Suitable Workspace to Solve the Puzzle Pieces: Measure the 1000 piece puzzle's dimension. Then, look for a private workspace that can be all yours for the time being. And don't forget to use all the time you have got.
Maximize Clues, Minimize Options: Setting up the jigsaw puzzle pieces is one of the most tedious tasks. We will recommend you to check each puzzle piece upside down. This will greatly reduce the total time you might take to solve the overall jigsaw puzzle. Sort the pieces out. Use the color and pattern of the puzzle pieces to find more clues. And don't forget to set aside the edges and corners of the 1000 piece jigsaw puzzle. 
Build the Framework: Create the border of the jigsaw puzzle first. Use puzzle pieces that correlate the most. Such as printed text or signs, outlines of objects like buildings, windows, doors, and also people's faces.
Scale the Wall: Now that you have created some puzzle clusters, you can now extend these puzzle clusters outwards. Stay calm! This might take longer than you would have anticipated. Don't give up! If the stress gets you, take a break. It costs nothing! You have a lot of time to solve the puzzle. You might have a fresh perspective when you get back. 
Completion: Once you have scaled the wall, it is time to move ahead by filling up the remaining gaps. Your strategizing skills and efforts are finally about to pay off.
After completing the puzzle there are a lot of things you can do with it. Search the net and get creative! A glued-up puzzle frame sounds like an interesting addition to your home décor. Why not look for ways to make it more intriguing? Or else, begin a new one.
What is the fastest time to solve a jigsaw puzzle?
As per google stats, the fastest time to solve a jigsaw puzzle is 1:01:29 hours. The world record has been created by Pam Kerstetter and Joellen Beifuss. Both the remarkable puzzle solvers are from the USA. They won the honorary title at the US National Jigsaw Puzzles Championship 1986 held in Ohio, USA.